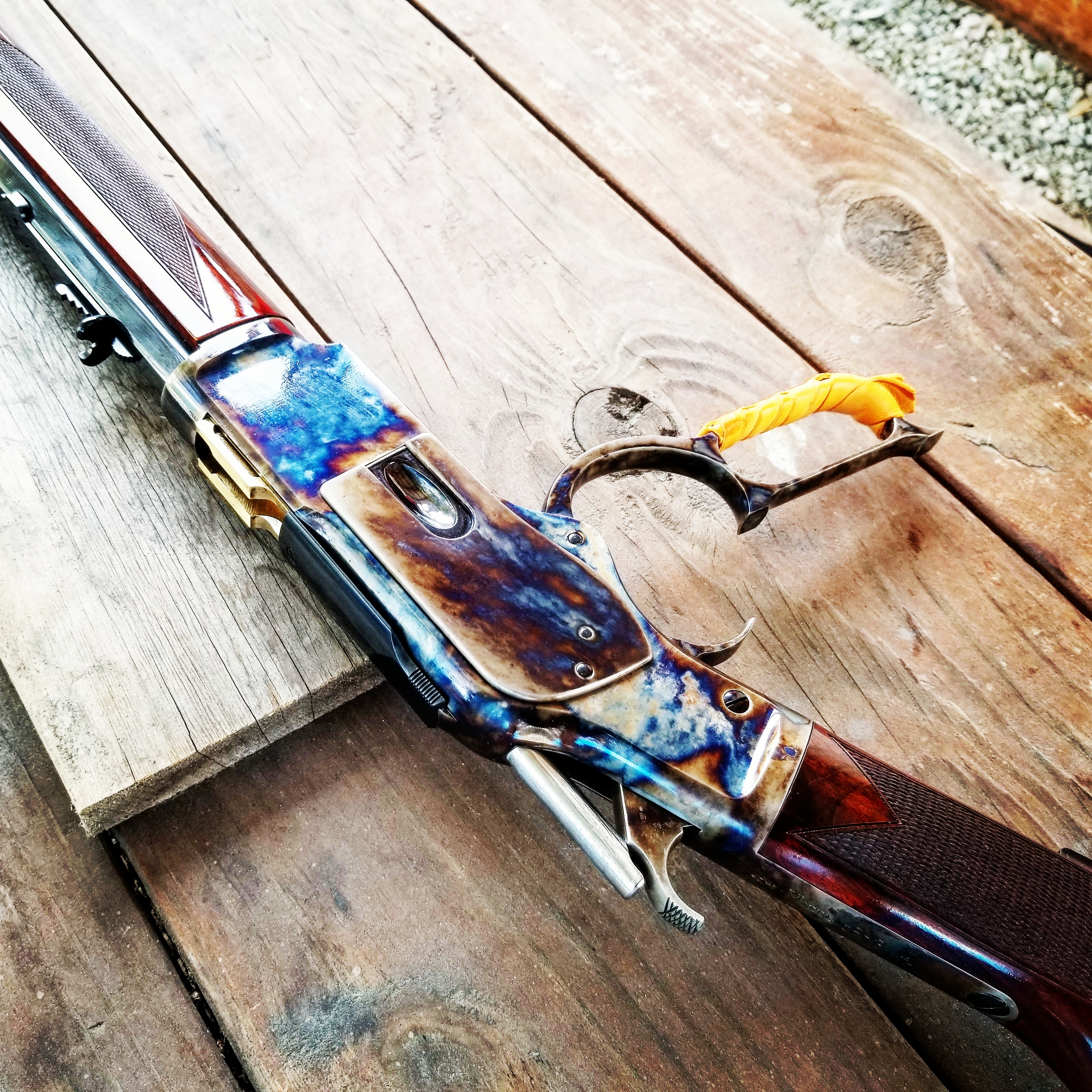 We've been drooling over these case-hardended cowboy guns since they went out on the floor here at Wade's, we just can't put them down. We have the Cimarron Arms Thunderer and the Taylor's & Co. 1873 Comanchero Lever Action.
Case-hardening is the process of hardening the surface of a metal object while allowing the metal deeper underneath to remain soft, forming a thin layer of harder metal (called the "case") at the surface.
The Taylor's & Co. 1873 Comanchero Lever Action is chambered in .357 Magnum, with an 18 inch barrel, blue finish and a chase hardened frame. Today, an array of options is still offered in Taylor's 1873 line. This pistol grip model features a classic checkered pistol grip buttstock, checkered forend, and a half octagonal barrel. Taylor's also offers two custom action options on all 1873 models. The Comanchero® action package includes a custom short-stroke action, lightened hammer and trigger pull, butt cover, lever wrap, and gold bead front sight. The Taylor Tuned option includes a custom action with hand polishing, custom hammer and lever springs, custom magazine tube spring, and an overall lightened action. Our custom actions feature one of the smoothest hammer and trigger pulls on the market.
The Cimarron Arms Thunderer is chambered in 45 Long Colt, with a 3.5 inch barrel, a blue finish and a case hardened hammer and frame. To paraphrase the famed film director John Ford, "If this isn't the way the Old West sixguns were, it's the way they should have been!" The Thunderer, a full-sized Model P, peacemaker-style single-action revolver that was designed by Cimarron founder and president Mike B. Harvey and made on the Old Model (pre-1896) frame and "bullseye" ejector head. However, as a departure from the traditional peacemaker-style arm, this six-shooter utilizes the natty birds head grip, and is much like that carried by Val Kilmer's "Doc" Holliday in the 1993 hit Western, Tombstone. Cimarron's Thunderer is available in the 4 3/4-inch barrel or the 5 1/2-inch barrel, as well as a 3 1/2-inch barreled version, that makes for a superb carry single action